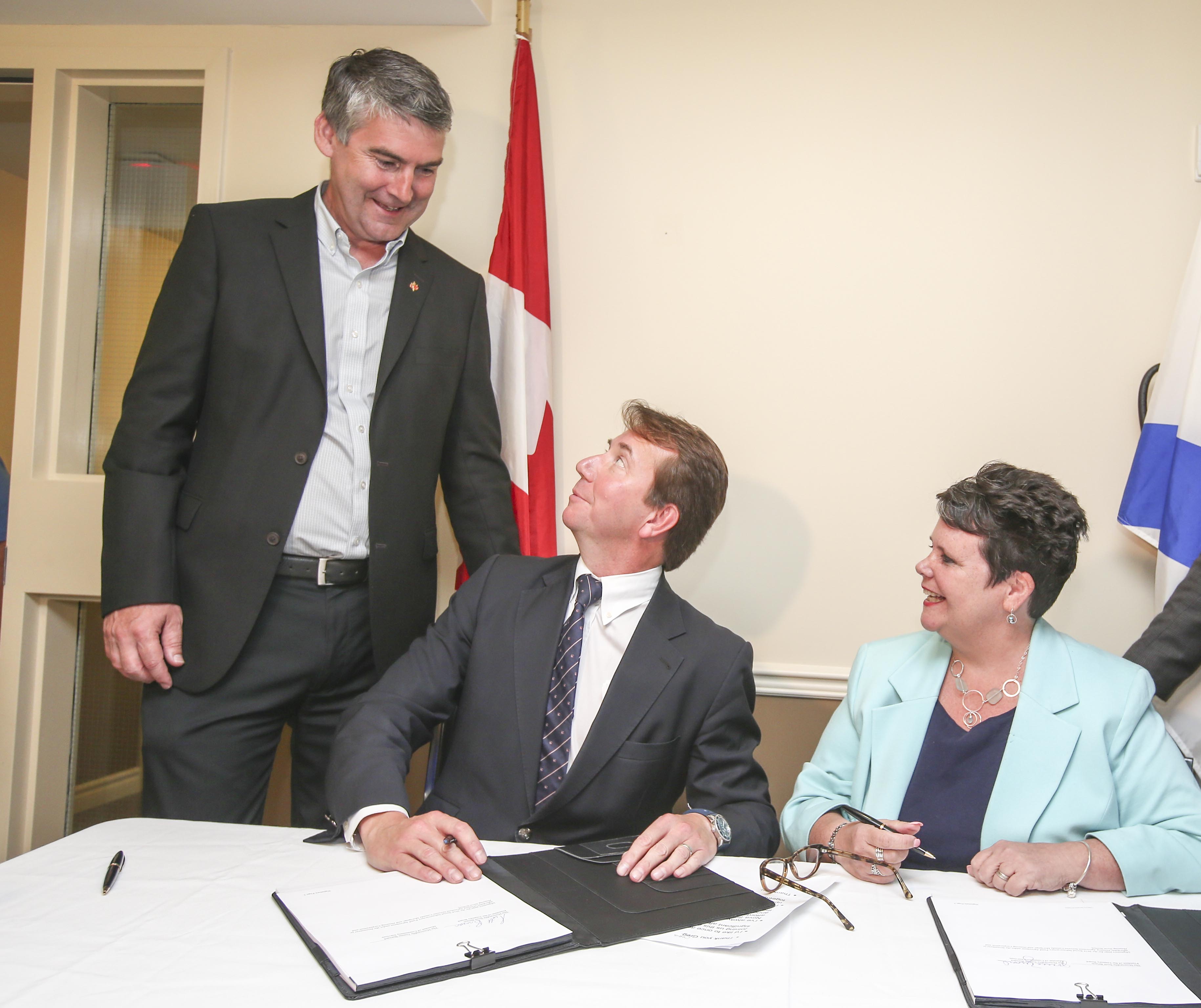 Nova Scotians in need of safe, affordable and accessible housing will soon have more options thanks to a new federal-provincial agreement.
Premier Stephen McNeil, and Joanne Bernard, Minister responsible for Housing Nova Scotia, along with MP Scott Brison, on behalf of Jean-Yves Duclos, Minister responsible for the Canada Mortgage and Housing Corporation, announced today, Aug. 17, that Housing Nova Scotia has entered into the new federal 2016 Social Infrastructure Fund Agreement.
The new agreement doubles the current funding under the Investment in Affordable Housing. Targeted funding supports those who need it most by supporting affordable housing for seniors, the construction and renovation of shelters and transition houses for victims of family violence, and addressing repairs and improving the energy and water efficiency of existing social housing.                
Almost $75 million in total will be invested. Of the $75 million, the province will be responsible to match half of $42.8 million, while another $32 million will remain a federal contribution.        
"Creating opportunities for Nova Scotians to access safe and affordable housing is a major priority for government," said Premier McNeil. "We have made good progress improving access and reducing wait lists and I am pleased to continue that momentum with this expanded partnership agreement with the federal government. I'll be even more pleased when we have details to share on new and expanded programs for people in need across the province."
The province is currently planning how the funding will be used.
"All Canadians need and deserve housing that is safe, adequate and affordable." said Mr. Brison. "Through new investments in housing, government is helping to strengthen the economy and improve the quality of life for Canadians, providing better places to live and grow."         
"This is not only an investment in affordable housing, but an investment in Nova Scotians, who all deserve to have a safe place to call home," said Ms. Bernard. "This agreement represents a renewed commitment, with targeted support for those who need it most."
Thirty-two million of the almost $75 million being invested will be spent over the 2016-17 and 2017-18 fiscal years, and is comprised of $8.6 million to create affordable housing for seniors, $18.2 million for retrofit and renovations to social housing, and $5.2 million for victims of domestic violence. The cost-shared $42.8 million will require the province to commit $21.4 million in cost-matched funds, with only $7.05 million of that required in 2016-17.