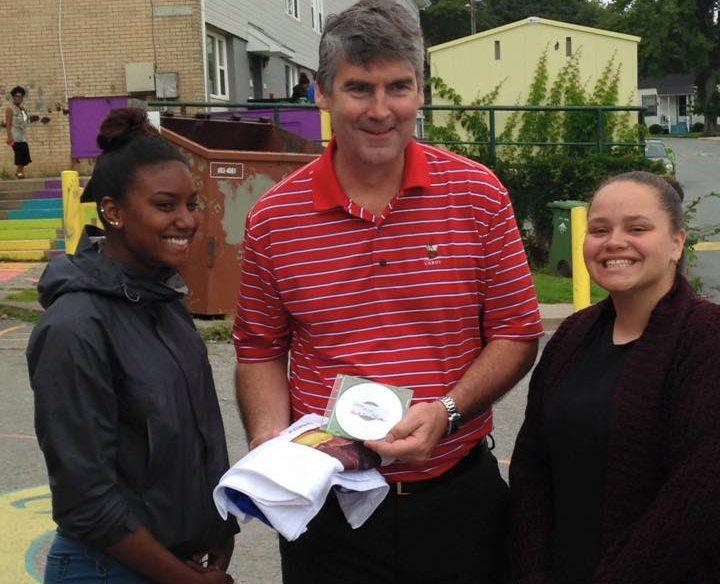 In August, Nova Scotia premier Stephen McNeil met with some of the younger residents of the community of Mulgrave Park in Halifax. Mulgrave Park is a public housing development owned and operated by Metro Regional Housing Authority on behalf of Housing Nova Scotia. Built in the late 1950s, it is the oldest and largest public housing community in Nova Scotia.
Before touring the community garden, the premier dropped into the Phoenix Youth Community Centre, where he had an opportunity to hear from a group of youth about their experiences growing up in Mulgrave Park, or MGP, as they call it. He was given a T-shirt and a CD, both created through their business and social enterprise, Park Town Prints.
The CD, entitled Come Find Out, expresses the feelings of the youth about their home community and was recorded to refute the negative image of Mulgrave Park in the popular media.
                "Listen to the news report – it's crazy after dark.
                But it's actually a place where people wear their hearts
                on their sleeves…"
This past summer saw the second Spread The Love event – MGP youth dressed in fluorescent, hand-decorated T-shirts descending on downtown Halifax, dispensing candy to passersby. The candy had positive messages attached, like "Smile! You're beautiful!" and "The world's a better place because you're in it." Spread The Love is meant to break down barriers and encourage acceptance and a more positive point of view.
Not unlike a small village, Mulgrave Park has a bright new playground and the kind of vibe that modern parents all want for their children.
"Kids are outside playing all the time. No one's worried about them," says Nykeala, a young woman in grade 11. "Everyone knows everyone else. You can't get away with anything."
"Everyone feels like family," echoes Naykia, who's in grade 12. "It's a very loving, welcoming place."
The two girls are fully involved and active in many of the programs offered in their community. Twice a week they hold peer tutoring sessions for junior high schoolers at the MGP Phoenix Youth Centre. They enjoy cooking in the after school program, and they loved the youth exchange trip to Ottawa last summer. But the highlight of their week might be the Phoenix Youth Choir.
"Choir is my favourite!" says Nykeala. "It is literally just like a family."
When asked what their community means to them their responses speak to the range of people that live there, the myriad activities and programs, and the love and acceptance they feel. To the youth of MGP, their home community is a launching pad into the world and the future.